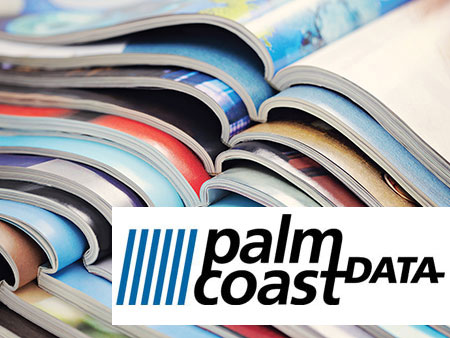 The Mission
Palm Coast Data wanted to provide multimedia services and efficient contact center performance for a wide range of clients. It also wanted to boost operational efficiencies and future readiness to maintain competitive advantage as a contact center and fulfillment outsourcer. This included consolidation of a number of its call centers into one main contact center in its head office in Florida, as well as introduction of real-time reporting and analytics that it could make available to its magazine clients, and, finally, a boost to its customer satisfaction.
Palm Coast Data is a leading magazine subscription and membership fulfillment business that handles over 500 publications with more than 45 million subscribers, membership services for eight large national associations, and merchant services for a large transit authority. The contact center has over 200 on-site agents with 125 different skill sets and a growing number of home-based agents.
According to Jim Bradley, Director of Telecom/Network Services, it is essential for Palm Coast Data to remain on the leading edge of technology in order to supply its clients with features and services that support the challenges of their businesses.
Palm Coast Data updated its technology with Avaya Aura® Contact Center 6.2, which facilitates communication via voice and multimedia channels to deliver a unified, efficient, and highly personalized customer contact experience. The solution includes Avaya CallPilot® (soon to be transitioned to Avaya Aura® Experience Portal) with an Avaya Communication Server 1000.
Previously, Palm Coast Data had separate groups within the contact center to handle voice, email, and other types of communications. Now, they have the capability to use blended agents to handle voice, email, Web chat, text messaging, faxes, and traditional mailed documents. This drives efficiency because when not on a voice call, an agent can be handling another communication channel such as email. Similarly, the Web chat function helps to improve agent productivity because with Avaya Aura Contact Center, an agent can manage up to five chat sessions at one time (although according to Bradley, typically not more than two are handled at a time).
Products
Avaya Aura® Contact Center 6.2, Avaya CallPilot® transitioning to Avaya Aura® Experience Portal, Avaya Communication Server 1000
Overall, the multiplicity that is achieved by blended agents has increased productivity from 86 to almost 98 percent. The blended agent scenario also increases employee satisfaction. Bradley has found that Avaya Aura Contact Center also provides excellent supervisory functions.
Palm Coast Data has leveraged the capabilities of Avaya Aura Contact Center to help reduce costs and deliver a significant short return on investment. For example, Bradley said that the contact center has found it has the flexibility to absorb an increase of about 3,000 transactions per week during their busy holiday period without hiring additional staff. "That," he states, "represents a savings of about nine full-time salaries, which is over $200,000 annually."
Ease of management is one of the features of the Avaya Aura platform that impresses Bradley the most. He was very surprised at how uncomplicated it was to deploy features such as Web chat and scheduled callback. Extended services are now handled by home agents. Many of the home agents work part-time on a flexible schedule, so they can be called upon to fill in when there is a sudden spike in volume, such as when a client runs a special promotion.
More Accurate, Real-Time Reporting
Reporting that is built into the Avaya Aura Contact Center solution is highly accurate because it adjusts to the agility inherent in a workflow that incorporates blended agents. One of the special features that Palm Coast Data can offer to clients is instant real-time reporting to clients. Some clients also use the Remote Agents Observe feature, which enables them to dial in and listen to agents handling calls for their customer.
Bradley concludes, "The Avaya Aura Contact Center experience has been extremely valuable for Palm Coast Data because it provides everything we need to improve the capabilities and efficiencies that we can offer to our clients."
Benefits
Productivity increased from 86 percent to almost 98 percent based on broad multimedia capabilities for blended agents

Savings of over $200,000 per year from avoiding additional staff to handle volume increases