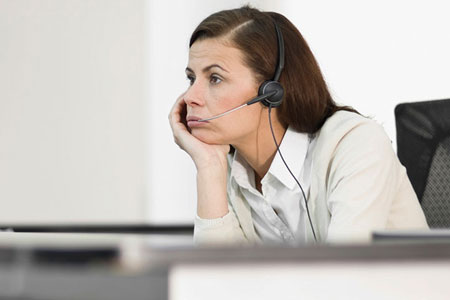 Do you know what really bugs customers about calling in to a company's contact center? Consumer Reports surveyed customers in July 2011 to find out, and here's what topped its list of reported grievances concerning customer service over the phone:
The inability to reach a real person on the phone.

Too many steps required.

Long hold times.

Unhelpful solutions.

Extras being pitched.

Lack of an apology for unsolved issues.

Boring hold music or messages.
In a perfect world, you'd always have enough contact center agents available to handle the number of incoming calls. However, spikes in call volume can and do occur. Whether prompted by a new marketing campaign, a product recall, seasonal sales cycles, or even an unpredictable news event, managing these spikes is important.
If you fail to do so, your customers have just two options: Wait or hang up!
In both cases, the customer experience has been harmed. For customers who opt to wait, irritation and the loss of goodwill are likely outcomes. For those who hang up, the situation worsens, as they may abandon the transaction completely and seek a solution elsewhere—possibly from your competitors.
Even when customers patiently wait in the queue, excessive telephone toll charges can accumulate. Another problem is agent productivity. Call volume spikes are often followed by call volume valleys, when agents sit idly waiting for the next call. This is a terrible use of your resources.
Callback Solves Call Volume Dilemmas
Callback solutions give callers a choice to either hold for a live agent or have the next available agent call them back shortly. Instead of sitting on hold listening to boring music and getting irritated, customers are empowered to make the choice that works best for them.
Call volume spikes are often followed by call volume valleys, where agents sit idly waiting for the next call. This is a terrible use of your resources.
Imagine a customer calling to order airline tickets after seeing a special offer advertised on television. She wasn't the only one—hundreds of viewers call the toll-free number at once, swamping the contact center. Given a choice between waiting on hold and receiving a call from a contact center agent, the customer opts for a callback. She returns to her routine.
Meanwhile, the customer's place is kept in the queue until it's her turn. The customer receives a call from an agent and subsequently books her flight. She's impressed by the service, excited about her plans, and tweets about her experience to her followers. Instead of being inconvenienced and annoyed due to the long hold time, the customer has received personalized service and is absolutely delighted.
The Benefits of Using a Callback Solution
All told, there are many potential boons for contact centers that deploy callback. These include:
Empowering customers through choice.

Reducing customer annoyance at being stuck on hold.

Decreasing hold times.

Decreasing abandoned calls.

Improving agent morale.

Boosting agent productivity.

Achieving service-level targets.

Reducing toll charges.

Avoiding the need to hire additional agents to meet service-level requirements.