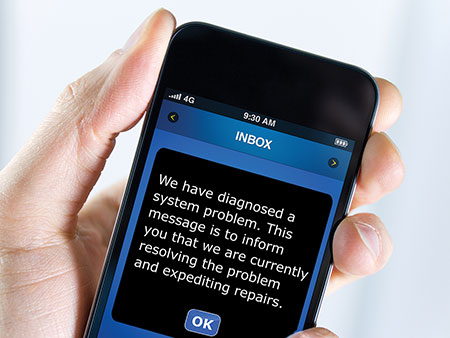 Planning for emergencies, such as storms and other natural disasters, is part of every comprehensive business plan. What can differentiate your company and brand is how you respond to your customers in a crisis.
Any emergency or power outage can result in a sudden flood of calls to your business. But how do you let customers know you are aware and on top of the situation? How do you keep customers informed until the crisis is resolved?
While your company works to diagnose the problem and expedite repairs to return services, managing the influx of inquiries from customers can overwhelm utilities and other service providers. Customers want answers and grow dissatisfied when they feel they are not getting a response. For some service companies, responsiveness in a crisis may even be mandated by regulations, with heavy penalties for turning callers away with a busy signal.
Regardless, your business must be able to effectively deal with every customer's inquiry or request for status in a timely and accurate fashion. Not doing so can result in customer frustration and dissatisfaction, leading to costly consequences such as lost revenue and customers.
There are two approaches to maintain capacity and meet your customers' expectations and regulatory requirements. One is to invest in building your own call center infrastructure. The other is to turn to outsourced solution providers to handle calls during predefined peak call volumes. However, both of these can require considerable investment in time and money for just-in-case events.
A Better Way: Self-Service and Automation
Leading self-service solutions intelligently route and automate not just voice calls, but a variety of media including video, email, and text. To provide the best customer experience, they can provide dynamic, real-time self-service as well as information on agent status and expected wait times.
Now, most simple inbound service outage requests can be handled through self-service systems that greet, identify, and authenticate callers first. If the system is integrated with an outage management system, callers can also get information about the outage and its estimated repair time. If the caller then requires live agent help, the solution can query each contact center site to determine when the next one will be free. Callers can also be offered options such as scheduled callbacks or provided with automated notifications like service restoration status updates by text or voice that are personalized to the affected customer. This allows you to provide customers with quick, concise information while focusing your resources on issue resolution.
You can even set the outage management system to declare an outage based on patterns of calls into your contact center.
You can even set the outage management system to declare an outage based on the patterns of calls into your contact center. This triggers outbound alerts and notifications to local residents or healthcare facilities via voice message, email, or text—preventing duplicate inbound calls into the contact center and saving everyone's time.
What's Next?
This new approach brings together communications with business processes and customer data to help you maximize your contact center resources without sacrificing the customer experience. In short, it helps you achieve:
Efficiencies to optimize your resources and provide customers with quick, concise information on outages and status.

Regulatory compliance so that all calls are taken, even under the most demanding of circumstances.

Flexibility to adapt to call volume fluctuations and new business demands.